With Thanksgiving behind us, the holiday season is in full swing! If you welcome your family and friends into your home for holiday meals and gatherings this time of year, keep reading! Whether you're planning a big family gathering or an intimate party, it is going to heavily impact your plumbing system.
Thankfully, at Liquid Rhyno, we offer a variety of clog removers and maintenance solutions for the sink, bathtub, shower, toilet drains, and septic systems. The drain opener liquid will eliminate clogs and provide premium protection to help you and your plumbing system make it through the holiday season.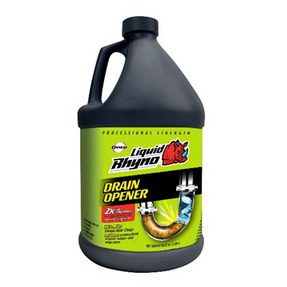 Drain Opener 
If you have clogged your sink drain by pouring grease or stuffing food down the disposal, you should have the Drain Opener handy. The Drain Opener liquid breaks through touch clogs with 2X the concentrate than leading bleach products. Its innovative formulation cuts through clogs created by hair, soap scum, and organic matter. Designed for residential and industrial use, this Drain Opener is available in multiple sizes, including 32 FL oz., 62 FL oz. (launching December 2022 on Lowes.com), and 1 Gal. The entire product line is coming soon to Lowes.com, Amazon.com, and at Walmart!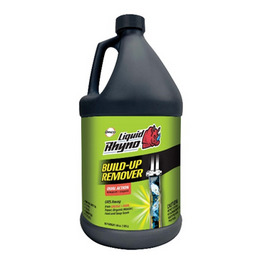 Build-Up Remover
The Build-Up Remover is a must-have drain cleaning agent for monthly maintenance and routine use to prevent clogs. It destroys tough clogs caused by grease, hair, food, and organic matter. The Build-Up Remover is formulated for optimal strength to clear clogs quickly. It is formulated with a premium blend of biological enzymes designed to cut through standing water & tough clogs. Coming soon to Amazo.com and Wal-Mart.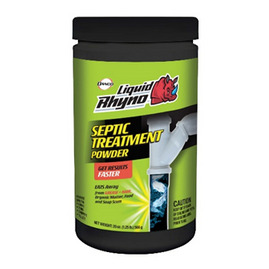 Septic Treatment Powder
Your toilet will be a busy destination this holiday season. Heavy usage can lead to clogs and build-up within your septic system. For these types of septic clogs, our Septic Treatment Powder is recommended. Designed with a uniquely formulated blend of digestive biological enzymes, the septic tank treatment breaks down household waste and paper. The healthy natural bacterial enzymes eat away existing build-up through monthly maintenance to ensure a healthy septic system. Additionally, it's a safer alternative to harsh chemicals and is safe for all septic, city sewage, and plumbing systems. Available soon on Amazon and at Wal-Mart.
The holidays are meant to be spent relaxing with friends and family not worrying about clogs and raging plumbing issues. Liquid Rhyno is here to ensure your home is prepped and ready to go for the holiday season!